ºCLAIRbyKahn is a dedicated photography gallery that represents a selection of history's most important photographers and some of the most compelling contemporary artists in the field.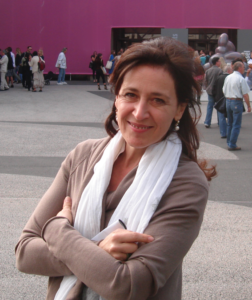 Director Anna-Patricia Kahn has earned a reputation for excellence as a result of her work curating exhibitions and editing books of photography. She collaborates closely with international collectors, artists, archives, and museums to safeguard the legacy of prestigious photographers and to enhance the value of photographic artworks.
Ms. Kahn has spent more than two decades working with images. During her time as a war reporter in the 1990s and a Middle East correspondent in the 2000s, she collaborated with iconic photographers such as Erich Hartmann and witnessed the incredible power and emotion conveyed by photography. However, Ms. Kahn noticed that great photographers were often dismissed as documentarians instead of artists, which motivated her to found ºCLAIRbyKahn in 2008 to advocate for the great works of photography and to foster emerging artistic talent. Since that time, she has curated more than two dozen exhibitions on three different continents and served as an editor for the publication of more than a dozen photography folios.
ºCLAIRbyKahn now represents some of the most notable photographers of the 20th and 21st centuries, including Philippe Halsman, Jacques Henri Lartigue, David "CHIM" Seymour, Alvin Langdon Coburn, Erich Hartmann, Inge Morath, Erich Lessing, and Lee Miller. Ms. Kahn also works closely with prominent contemporary photographers such as Chien-Chi Chang, Tomasz Lazar, and Petr Lovigin.
Private Curator
ºCLAIRbyKahn Gallery builds and curates portfolios for collectors, procuring photographs and art according to specific requests. We are available to receive collectors at either of our galleries, or to travel to collectors around the world. Acquiring a portfolio is a way of creating a collection in an increasingly important sector of fine art. It is a financial, intellectual, and emotional investment, and ºCLAIRbyKahn is at hand to offer advise according to your needs.
ºClairbyKahn's Publications
2016  Rudi, Discovering the Weissenstein Archive, Kehrer Verlag
2015  Chien-Chi Chang, Jet Lag, Hatje Cantz
2015  On the Move, Photographs by Alvin Langdon Coburn, Jacques Henri Lartigue, Philippe Halsman, Lee Miller, Erich Hartmann, Inge Morath, Erich Lessing, Eikoh Hosoe, Patrick Zachmann, Gundula Friese, Chien-Chi Chang, Oliver Mark, Petr Lovigin. An accompanying publication to the exhibition at VDA, Berlin Fall 2015, curated by A.P. Kahn, text by Valérie Fougeirol, layouted by Dirk Uhlenbrock (erste liga), produced by Markus Penth
2013  Our Daily Bread, Kehrer Verlag
2012  Planet Lovigin, Kehrer Verlag
2011  View York, Kerber Verlag
2010  Argentina Now, Photographs by Adriana Lestido, Marcos López and Marcos Zimmermann, A catalogue accompanying the exhibitions in Munich and Berlin Fall 2010, CLAIR / Kunst im VDA, Grebennikov Verlag, Berlin 2010